About Dr Vaishali Sharma
Dr Vaishali Sharma MD (AIIMS)
She has been practicing Gynaecology for more than 14 years, treating patients with dedication and compassion. After completing MBBS from GSVM Medical College in Kanpur, she secured 27th rank all over India in the AIIMS MD entrance exam & opted for a career in Obstetrician and Gynaecologist. After finishing Post-graduation from the Premier Institute, she was chosen among 17 applicants for the single vacant seat for Senior Resident and she continued again as registrar for another 3 years at AIIMS, New Delhi. She is a LifeTime member of the Federation of Obstetrics and Gynaecological Societies of India (FOGSI), International Society for Fertility Preservation (ISFP) and Association of Obstetrician and Gynaecologists of Delhi (AOGD). She has presented many research papers in both the international and national conferences.
Dr Vaishali Sharma MD (AIIMS) is very famous and one of the respected Gynaecologist, IVF Doctor in Delhi. She as a Best Gynaecologist in Delhi, holds her expertise in treating conditions requiring Hysteroscopy, Laparoscopy and Gynecological facilities such as Painless Delivery, Care of Pregnancies, Antenatal Check-Up, Infertility Treatment, Family Planning Consultation, Abnormal Uterine Bleeding Pelvic reconstructive surgery, Cervical Cancer Vaccination, Pap smear, menstrual abnormalities, ovarian cysts, endometriosis, HPV, incontinence, infertility, PMS, vaginal infections, fibroids, polycystic ovarian syndrome (PCOS), urinary tract infection (UTI) and many others.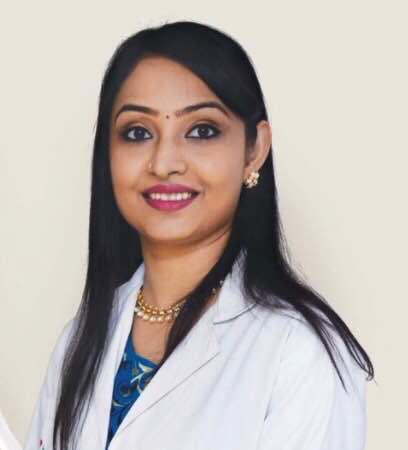 She is recently recognized with Two National Awards by Economic Times Healthworld at National Fertility Conclave in the fields of IVF and Laparoscopic Surgery.
Hall of Fame Laparoscopic Surgeon of the year – National Silver 2019 and Budding IVF Specilaist of the Year – National Gold 2019. Also she is recognized as "Best Gynaecologist in India" by Cabinet Minister Shri Chetan Chauhan Ji, Shri Amar Singh Ji, and Padamshree Dr J K Singh Ji at Global Healthcare Excellence Awards 2017. Also, she has been awarded as the "Most Promising Obstetrician and Gynaecologist in North India" at Global Healthcare Excellence Awards (GHEA) 2017
She is an Associate of Royal College of Obstetrician & Gynaecologist (RCOG), London and a LifeTime member of International Society for Fertility Preservation (ISFP), Federation of Obstetrics and Gynaecological Societies of India (FOGSI), and Association of Obstetrician and Gynaecologists of Delhi (AOGD).
As an IVF Doctor in Delhi, she has treated many patients successfully who are suffering from ovarian cysts, ectopic pregnancy, fibroids, endometrial polyps, tubal block, adenomyosis, infertility and also managed woman needing Hysterectomy.
Mainly she has been known for her highly advanced and up-to-date treatment methods which help her in managing many cases of High-risk Pregnancy with a positive outcome, which makes her that Best Gynaecologist in Delhi.
Recently Dr Vaishali Sharma MD (AIIMS) achieved two Economic Times National Fertility Awards – 2019 in an award function organized in October 2019 at New Delhi. One award is in the category of Budding IVF Specialist of the year (National) and the second award is Hall of fame Endoscopic Surgeon of the year (National).
Each category had awards for North, South, East and West regions. And above all was the National award. These National level awards coming from such a reputed group, added a new feather in her cap.
Our Mission
Infertility Doctor in India Dr Vaishali Sharmas ' mission is to bring healthcare of international standards to each and every individual. For that, She has an experience of working at esteemed All India Institute of Medical Sciences (AIIMS), New Delhi for 6yrs.
Our Gynecological Services
Here are some of the main services offered by Dr Vaishali Sharma MD (AIIMS)- IVF Specialist in India,
Laparoscopic Gynaec Surgeries
Hysteroscopic Surgeries
Painless Delivery (Epidural Analgesia)
Why choose us
Dr Vaishali Sharma MD (AIIMS) is known for providing detailed consultations and well-customized treatment options for infertility patients.
She is one of the leading Gynaecologist in New Delhi.
Being a Laparoscopic surgeon as well as an IVF Consultant, these combined skills make our setup most apt for infertility patients. She is not offering just IVF to all infertility couples rather we are tackling each case as a unique one, treating infertility by endoscopic surgery or Follicular monitoring or superovulation or IUI or IVF etc whatever is needed for that particular patient. Each couple undergoes a detailed discussion and workup to find out their specific cause of infertility, followed by customised treatment option for them. Few of them conceive just with timed intercourse, while some of them respond miraculously to endoscooic surgery conceiving within a month of the procedure. While few are adviced IUI treatment in Delhi depending upon their factor of infertility while most difficult ones are being treated with latest techniques of IVF, ICSI, Blastocyst culture, LAH, PICSI, MACS, PGD & PGS etc.
Affiliated with many well-known hospitals like Milan Fertility Centre, Fortis la femme, Apollo cradle Royale, Apollo Spectra, Paras Spring Meadows hospital, etc.
Successfully operated more than 5000 hysteroscopic and laparoscopic surgeries.

With the experience of working at AIIMS, New Delhi and training of Specialised Advanced Gynaecological Endoscopy from prestigious Kiel School of Gynaecological Endoscopy, Germany, Dr Vaishali Sharma is highly reviewed and renowned gynaecologist treating blocked tubes infertility with either laparoscopy or IVF.

She has experience of working as an in-charge in OT for gynaecological surgeries and Laparoscopic OT.
Expert Infertility Doctor in India solving the root cause of the problem through laparoscopic surgery, IUI (Intrauterine Insemination) or IVF (test tube baby)
Need help? Talk to Our Fertility Experts
When you are ready to talk about your infertility issues, we're here.
Facts About Gynaecologist
Gynecology is derived from the Greek meaning "the study of women".
Gynaecology or gynecology is doctor who specialize in health of the female reproductive systems.
J. Marion Sims is considered as the father of modern gynaecology.
There are four subspecialties in the OB/GYN field such as 1.Gynecologic Oncology, 2. Maternal/Fetal Medicine, 3. Reproductive Endocrinology and Infertility, 4. Urogynecology/Reconstructive Pelvic Surgery.
Kelly was appointed the first professor of gynecology and obstetrics.
Royal College of Obstetricians and Gynaecologists in London,UK encourages the study and advancement of both the science and practice of obstetrics and gynaecology.
85 Percent of Young Gynaecologists Are Women.
The science of birth has been written about for thousands of years.
The first obstetric textbook was a bestseller.
You Should Shower Before Your Gynaecologist Appointment.
Your Gynaecologist is Concerned With More Than Just Your Nether Regions
Gynaecologists Sometimes Have to Take Extreme Measures.
Your Gynaecologist Doesn't Care if You're On Your Period.
No drugs or other treatments can replace ovarian or uterine hormones or functions.
Certain gynaecological conditions are linked to infertility such as endometriosis, polycystic ovary syndrome (PCOS), recurrent miscarriage are linked to infertility.
Gynaecologists can also investigate why a woman is unable to become pregnant.
Gynecology has advanced to the point that the physician can force the ovaries to produce eggs.
An obstetrician is a kind of gynecologist who specializes in both women's reproductive health and care for women during their pregnancy, labor and child delivery.
Contact Us
If you are suffering from any gynaecological issues and looking for the best doctor in Delhi then visit Dr.Vaishali Sharma MD (AIIMS). She takes pride in serving patients and families all around India. She as an IVF Specialist in India always strives to improve her skills and provide credible and timely services. To get any help or to solve any queries or problems you may be facing contact us on, +91-965-0035345 or visit her by making an appointment online.
Gynaecologist FAQ's
Who is a Gynaecologist?
A gynaecologist is a medical doctor who specializes in women's health, female reproductive system includes cervix,
fallopian tubes
, ovaries, uterus, and vagina. Gynaecologist diagnoses and deals with such as obstetrics or
pregnancy
,childbirth, menstruation and fertility issues, sexually transmitted infections (STIs), hormone disorders, and others. A gynecologist performs a variety of tests and exams focused on women's health. Gynaecologists are also sometimes certified as obstetricians.
What are the conditions treated by Gynaecologists ?
Gynaecologists treat issues relating to pregnancy, fertility, menstruation, and menopause. And also help with family planning sterilization and pregnancy termination. They also treat problems with pelvic organs, including ligaments and muscles. Gynaecologists also deal with cancers of the reproductive tract and pregnancy-related tumours of the female. Premalignant conditions, such as endometrial hyperplasia, and cervical dysplasia are also few of the conditions treated by gynaecologists.
What is the difference between a Gynaecologist and an Obstetrician ?
A gynaecologist is a doctor who specializes in women's reproductive health whereas obstetrician specializes in care for women during their pregnancy, labor and delivery and the immediate period following childbirth. In India, a masters degree (MD or MS) in Obstetrics and Gynecology comprises experience in both the fields. So, a postgraduate doctor from India is trained to treat common gynaecological problems as well as manage deliveries.
Does a Gynaecologist treat infertility in women/men?
Yes, depending upon the expertise and experience of a gynaecologist, she can treat any couple facing difficulty in achieving pregnancy naturally ( infertility ). Dr Vaishali Sharma MD (AIIMS) is known for her latest techniques and advancements treating blocked tubes by laparoscopic surgery or achieving quick positive pregnancy results in such patients by
IVF
(test tube baby)
What Is The Fee Of Gynaecologist In Delhi?
Fee of gynaecologist in Delhi differ from clinic to clinic. Gynaecologist consultation fee may be increased and decreased with the success rate and experience of the Doctor. The approximate consultation fee of gynaecologist in Delhi range between Rs. 500 to Rs. 1500.
What special concerns can be discussed with Gynaecologist ?
Some woman feels hesitation in discussing and explaining their intimate issues. Your gynaecologist has seen and heard it all and is there to help you, so you should always discuss all your problems with your gynaecologist frankly if your periods are very painful or have been getting worse over time it's important to speak with your doctor. Explain all issues including vaginal infection, sexual discomfort, vaginal dryness, pain during sex etc.
Dr Vaishali Sharma MD (AIIMS) has been reviewed as the most nonjudgmental gynaecologist in Delhi
Information About Delhi
Dr Vaishali Sharma MD (AIIMS) is the Best Gynaecologist in Delhi serves all types of infertility treatments with high success rate.
Delhi was founded by Mughal Emperor Shah Jahan in the year 1649.
Delhi is also known as the National Capital Territory of Delhi (NCT), which is a union territory of India.
Delhi is situated in Northern India.
Delhi serves as the capital of India.
Delhi is divided into two parts: Old Delhi and New Delhi.
Delhi is also the centre of the National Capital Region (NCR).
The NCR includes the neighboring cities of Faridabad, Gurgaon, Noida, Ghaziabad, Greater Noida, Panipat, Sonepat, etc.
There are 11 districts in Delhi in the capital territory.
Each district of Delhi has subdivisions including Najafgarh, Dwarka, Rohini, NarelaSaket, Hauz Khas, Rajouri Garden,Chanakyapuri, Mayur Vihar, Janakpuri, Karol Bagh, Connaught Place and more.
Delhi has three municipal corporations such as SDMC, NDMC, EDMC.
The Municipal Corporation of Delhi MCD was among the largest municipal bodies in the world providing civic services in Delhi.
Where South Delhi Municipal Corporation (SDMC) in Delhi having responsibility of monitoring, upgrading and developing.
Delhi is the largest commercial centre in northern India.
Delhi has one of the largest public transportation systems in India.
IIT Delhi is the India's top engineering college, located in Haus Khas, Delhi.
Delhi University (DU) provides ample professional courses that make students grow in their career.
Delhi has the highest road density in India.
Delhi is situated on the bank of River Yamuna which is the second most important river after River Ganga.
Chandni Chowk is one of the most popular old market in Delhi for jewellery and Zari saris.
In the Qutb complex of Mehrauli , Delhi stands one of the most curious metal objects in the world known as Iron Pillar of Delhi.
Delhi is the most populated city in India ranks on second Highest Positions.
Delhi ranked as 28th-most visited city in the world and first in India by foreign visitors.
The zip postal code in Delhi is 110001.
Delhi's Area code is +91 11.
There are many tourist place and attractions found in Delhi.
Lotus Temple is one of the religious attractions in Delhi.
All India Institute of Medical Sciences AIIMS Delhi is ranked first among the medical colleges in India.
Some of the most beautiful Tourist Places in Delhi are India Gate, Akshardham Temple, Qutub Minar, and Jantar Mantar.
Delhi is bordered in northern, western, and southern sides by Haryana and in the East by Uttar Pradesh (UP).
Including other Gynaecologist, Dr Vaishali Sharma, is the top Gynaecologist in Delhi.