Coronavirus popularly known as COVID-19 has been declared as a pandemic. All places where a group of people can come in close contact or get in touch are closed like Movie Theatres, Clubs, Schools, Malls, etc. Majorities have been asked to stay at home or work from home. Hospitals and Clinics are working day & night to tackle this emergency.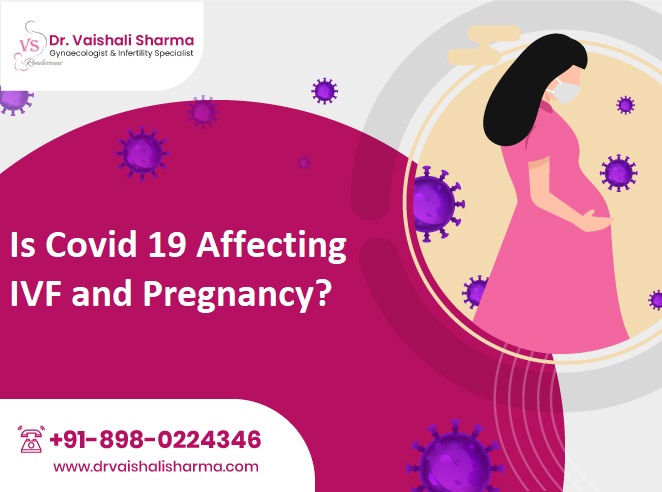 Originally identified in Wuhan district of China, the Covid-19 patient was first detected in India in January 2020. Currently, more than 2 lac people have been found to be positive worldwide while more than 10k deaths have been reported all over the world. Prevention has been proven to be better than cure once again.
Everyone has been told to avoid unnecessary travel. Amongst all this, we are also encouraging our patients to opt for online consultations instead of visiting clinics for face to face consultations.
But on a daily basis, we are getting patients who want to undergo IVF or IUI now. They have been planning to undergo IVF for quite a long duration but were not able to undergo the treatment due to their respective jobs & unavailability of leaves. In view of forced vacation due to corona pandemic, the majority of them are coming to avail these treatments right now.
It's a hard known fact that Infertility takes its toll emotionally both for the patients as well as for the caregivers. Even then we are advising all our patients to postpone all fertility treatments right now. If you have Low AMH and have been told to undergo IVF as soon as possible, even then we recommend you to undergo medical treatment (oral tablets) for three months and then undergo IVF stimulation. These medicines may improve both the quantity and quality of eggs in women with poor ovarian reserve.
If you have already started stimulation then it's better to go for ovum pickup but avoid fresh embryo transfer. It is advisable to freeze all embryos and postpone embryo transfer for the time being. Anyhow, success rates of frozen embryo transfers have been found to be better than fresh embryo transfers. Also, the risk of OHSS (Ovarian Hyperstimulation Syndrome) has been found to be lesser in frozen embryo transfers cycles.
Even if you were planning pregnancy naturally, we will advise you to delay it for time being, considering the current scenario of rising cases of Corona Virus. Though little is known about the effects of Coronavirus in pregnancy as such influenza is more taxing in pregnant women than a nonpregnant woman. Due to its such severity only, all pregnant women are given influenza vaccine shots to avoid hazardous effects of influenza in pregnancy.
We are also postponing all elective surgeries in favour of our patients. Only emergency surgeries are being undertaken. Consult online to know if your symptoms need a visit to the clinic or not? Do you need surgery right now or can you postpone your surgery?
Avoid unnecessary travel and clinic visits. Opt for online audio and video consultations instead of face to face visits.
(ESHRE) – European Society of Human Reproduction has provided proper guidelines on coronavirus effect in pregnancy and why all fertility patients considering or planning treatment, should avoid becoming pregnant at this time.
If you are already pregnant, then it's advisable to protect yourself from any exposure to crowd or any person with travel history recently. Self-isolation is the best preventive tool for you. It is important to keep good personal hygiene, too. Try to have only online consultations until and unless asked by your caretaker to visit the clinic. Though few pregnant Covid-19 patients have delivered normally, some of them were premature deliveries, still, it's not clear if it's related to Covid -19 infection directly or not. If you develop any signs and symptoms of corona infection, then it's better to contact the nearby centre approved for Covid – 19 testing and treatment. Together we can and we will beat Corona & Infertility.
Stay home Stay healthy